For clean, hydrated skin.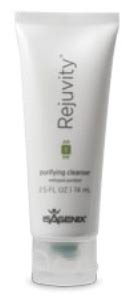 Purchase Rejuvity Purifying Cleanser
Retail Price: $29.33
Preferred Customer/Associate Price:- $22
Savings: $10 - 31%
Contents 2.5 fl oz (75ml) bottle

---


Note: For your best and lowest cost ordering options and advice email us or call us at
Buy 6 or more save 10% on each.
You can't turn back time, but you can rediscover your skin's youthful appearance.
This luxurious cleanser washes away impurities to hydrate and refresh your complexion. Remove excess oil and satisfy your skin with the unique hydrating technology of Isagenix Purifying Cleanser. Revitalizing antioxidant support will leave your face feeling balanced, clean and ready for the day.

Benefits:
Washes away impurities.


Removes excess oil.


Reveals balanced skin.


Free of preservatives, artificial colors and artificial fragrances.


Naturally paraben, phthalate and cruelty free.