ISAGENIX - Cleanse for Life Powder
The same amazing benefits of the liquid formula, now in a convenient and tasty powder!
Now - New and Improved - Nearly 3 Times More Potent!
Delicious Natural Rich Berry Flavor! It's a tasty way to a healthier body.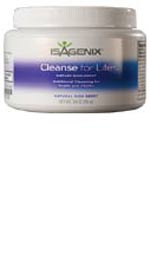 Buy IsaGenix Cleanse for Life® Powder
Retail Price: $43
Preferred Customer/Associate Price:- $32
Savings: $11 - 26%
Each Bottle Contains 106g (3.7oz)

---
New - Natural Rich Berry Flavor
Original - Tropical Berry Flavor


Note: For your best and lowest cost ordering options and advice email us or call us at
Now you can take your Cleanse for Life on the go! This convenient powder helps your body naturally cleanse itself of harmful impurities on a cellular level while nourishing it with 27 vital nutrients, antioxidants, natural plants, teas, vitamins and ionic minerals giving you the energy and immune support needed to live each day to the fullest. * Cleanse for Life powder provides the same nutritional benefits as the Cleanse for Life liquid while giving you the ability to take it with you anywhere. It truly is your perfect companion on the road to good health.
Why use delicious Cleanse For Life Natural Fruit Favor Powder?
Portable and no refrigeration needed to complement your busy lifestyle.


Preservative-free


Has a smaller environmental footprint with less plastic packaging and less shipping weight


When mixed with water, contents are equal to a 32 oz bottle of Cleanse for Life liquid
How can Cleanse for Life Powder change your life?
Boosts energy and endurance*


Encourages safe and effective weight-loss*


Increases resistance to stress*


Strengthens mental and physical performance*


Enhances immune system*


Improves digestive and heart health*


Natural with no stimulants, laxatives or diuretics


Great for every-day cleansing and regular deep cleansing
---
Supplement Facts

Serving Size

1
Scoop 6 g

Servings Per Container

16

Amount Per Serving

% Daily Value

Calories 20

Total Carbohydrate 5g

2%

 Sugars

4
g
*

Other Carbohydrate

Less than 1 gram

Vitamin B3 (Niacin)

4
mg
20%

Vitamin B-6 (Pyridoxine HCl)

4
mg
200%

Vitamin B-12 (Cyanocobalamin)

15
mcg
250%

---

Exclusive Priprietary Blend

1000
mg
*

Ionic alfalfa ™ (medicago sativa)
Aloe vera leaf gel (inner-heart filet) powder
Bilberry (Vaccinium myrtillus) extract
Blueberry (Vaccinium corymbosum) extract
Ashwagandha (Withania somnifera) extract
Raspberry (Rubus idaeus) juice extract
Pau d'Arco (Tabebuia impetiginosa) inner bark extract
Burdock (Arctium lappa) root extract
Fennel (Foeniculum vulgare) seed extract
Rhodiola (rhodiola rosea) Root Extract
Yellow Dock (Rumex crispus) root extract.
Deglycyrrhizinated Licorice (DGL) root extract (Glycyrrhiza glaba)
Suma (Pfaffia paniculata) root extract
Eleutherococcus senticosus (Siberian Ginseng) (root extract)
Peppermint (Mentha peperita) leaf extract
Turmeric (curcuma longa) root extract
Choline Bitartrate
Inositol
Betaine HCL (hydrochloride)
l-methionine

Percent Daily Values are based on a 2,000 calorie diet.

*Daily Value not established

Other Ingredients: Fructose, natural flavor, potassium citrate, purple carrot (Daucus carota), citric acid, lime juice powder.
Label plus More information on Cleanse for Life Ingredients - Click Here!
---
Order ISAGENIX Products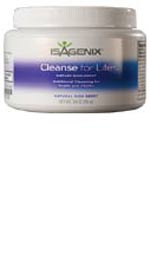 Buy IsaGenix Cleanse for Life Powder
Retail Price: $43
Preferred Customer/Associate Price:- $32
Savings: $11 - 26%
Each Bottle Contains 106g (3.7oz)

---
New - Natural Rich Berry Flavor
Original - Tropical Berry Flavor


Note: For your best and lowest cost ordering options and advice email us or call us at