Indulge Yourself on Cleanse Day - or Any Day!
Finally - a decadent chocolate treat that's perfect every day - even Cleanse Days! IsaDelight™, the Happy Chocolates that Satisfy, will help you remain strong to your commitment to healthy eating.


Take one to two chocolate supplements up to twice daily, in the late morning and/or late afternoon. For optimal usage, take on an empty stomach, or at least 2 - 3 hours after eating.


With IsaDelight Healthy Chocolate You may experience:
Increased energy

Reduced cravings

Lighter mood

Greater brain and heart health


So, go ahead - indulge every day… You deserve it!

---
What should I know about IsaDelight?
Delicious IsaDelight treats are only 50 calories each.

The gourmet grade of dark chocolate in IsaDelight contains over 70% non-alkalized cocoa powder, produced by a low-temperature process in a state-of-the-art US facility, preserving the cocoa's potent antioxidants.
Delectable IsaDelight satisfies food cravings, thereby reducing your appetite. Within minutes of savoring a luscious IsaDelight treat, you feel satisfied and ready to coast through the day with less temptation. When you satisfy cravings, you won't overeat.
It's a feel-good indulgence: The chocolate in IsaDelight stimulates the production of your brain's endorphins, providing feelings of pleasure.

IsaDelight is very low in sugar, containing the amount equivalent to the sugar in 1/8 of an apple, and it contains no artificial sweeteners.
How can I benefit from IsaDelight?
The antioxidant content of IsaDelight's cocoa exceeds that of tea, berries and grapes. IsaDelight's ORAC value of 5,700 per serving (two chocolates) delivers the same antioxidant capacity as approximately one cup of blueberries.

The antioxidants in IsaDelight's dark chocolate help support cardiovascular and circulatory health. IsaDelight's antioxidants help protect your body from the effects of free radicals.

Chocolate has a low glycemic index, which means it is less likely to cause your blood sugar to spike, then crash.

IsaDelight contains a special blend of B vitamins, healthy minerals and amino acids, which boost the natural benefits of chocolate.
---
How does IsaDelight® compare to the competition?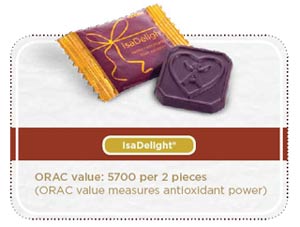 As compared to the dark chocolate in IsaDelight, milk chocolate, chocolates lower in cocoa, and chocolates that are cooked at high temperatures are far less antioxidant-rich. When the cocoa beans are processed by heating, there is a loss of antioxidants. IsaDelight is produced by a low temperature process that preserves the potency of its antioxidants.
---
People Are Excited About IsaDelight™!


"With IsaDelight™, I can complete my Cleanse Days with ease. No more cravings, I am not hungry and I feel great all day long! It's amazing that I get to eat chocolate and not put on weight. Thank you, thank you, thank you."

- Carolyn R. Ontario, Canada


"I started using IsaDelight on a Pre-Cleanse Day, then used it on a Cleanse

Day. It was by far, the easiest Cleanse Day I've every had!"

- Kurt M., Nevada


I was able to stop snacking on sugar candy thanks to IsaDelight®. It allowed me to do two Cleanse Days in a row. Now I use IsaDelight to take care of any cravings for sugar.

- Karen E., British Columbia


Before grading mid-term exams, I choose one IsaDelight® to give me mental clarity, an enhanced happy mood, and carry me through the careful work of grading college exam papers. My students thank you; I thank you.

- Becky F., Washington


When I first heard about IsaDelight® I was very hopeful that it would be a great product, but I was totally blown away at the taste and the reduction of all my cravings for sweets. Wow!

- Bill C., New York


IsaDelight® has now become my NUMBER ONE business productivity tool. Better than my daybook or assistant. I can stay focused and on task and finish my work.

- Stephanie T., Utah
---
What makes IsaDelight unique?

IsaDelight is a dietary supplement that consists of a proprietary blend of amino acids designed to help you feel good, naturally. The blend is uniquely delivered through premium dark chocolate, which is rich in cocoa and provides powerful antioxidants called flavanols.


What are the benefits of IsaDelight?

IsaDelight is packed with feel-good vitamins, minerals and a unique blend of amino acids. IsaDelight enhances the health benefits of dark chocolate and helps to lift mood*, helps to promote brain and heart health*, helps to improve energy and satisfy cravings.*


How does IsaDelight support Nutritional Cleansing?

IsaDelight has powerful nutrients and a rich taste that will help satisfy your strongest cravings and strengthen your will to cleanse. IsaDelight helps to improve energy, lift mood and reduce stubborn cravings—it is ideal for both Cleanse and Shake Days. According to MayoClinic.com, "When you eat enticing foods, such as chocolate, your body releases trace amounts of mood and satisfaction-elevating hormones... In addition, the pleasure of eating offsets negative emotions."


When is the best time to take IsaDelight?

On Cleanse Days: take one or two IsaDelights up to twice daily, preferably in the late morning and early evening. For optimal results, take at least 15 minutes before Isagenix Snacks!®. On Shake Days, take 1–2 IsaDelights on an empty stomach or at least 2–5 hours after shakes or meals as part of your Isagenix system. Because IsaDelight helps naturally energize the body, it's best to not take after 6 p.m. or with caffeinated drinks.


Is the dark chocolate used in IsaDelight high in quality?

The dark chocolate in IsaDelight contains more than 70 percent nonalkalized cocoa powder produced using a low-temperature process in a state-of-the art facility in the U.S. The process preserves the cocoa's natural antioxidants. ORAC (Oxygen Radical Absorbance Capacity) is the most common unit for identifying antioxidant strength. IsaDelight produces an ORAC score of more than 5,700 per two chocolates, approximately equal to one cup of raw blueberries. IsaDelight also does not contain any MSG or wax.


How is the chocolate in IsaDelight created?

The cacao bean (or cocoa bean) used for IsaDelight is 100 percent ethically traded. It's grown on small family farms near the equator that provide workers with fair wages and humane working conditions. The growth of cacao on small family farms also promotes sustainable forest farmland growth. The cacao is sun dried at its source to ensure the highest quality of dark chocolate during the final production process.


Does IsaDelight contain any artificial sweeteners or caffeine?

IsaDelight is sweetened with only three grams of sugar to help deliver nutrients to the brain. It does not contain aspartame or any artificial sweeteners. The dark chocolate in IsaDelight does not contribute any significant amounts of caffeine. It does contain potent nutrients that support improved energy levels.


What is the correct storage temperature for IsaDelight?

IsaDelight is best when stored in a cool, dry place where temperatures are below 75 degrees. If melting or freezing occurs, the product appearance may be affected; however the active ingredients and benefits of IsaDelight will not be altered.